Dablamp Induction Electric Dab Rig- Meet the Future of Induction Heating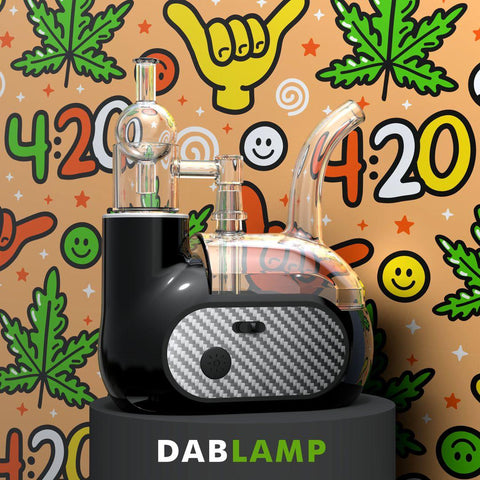 The Dablamp is an innovative induction Electric Dab Rig born for dabbers who want the best flavour and quality from golden wax, rosin and concentrates. 
The Dablamp is not your typical e-rig, this particular device uses induction heating technology to vaporize your materials. The flow of current in the conductive metal creates a resistance in movement of electrons, the resistance produces heat. There is no flame present, no coil to replace, and no wires.
Dablamp uses a Quartz Insert and a Silicon Carbide Insert (also known as SiC). This is an absolute game change. The Damlamp Quartz and SiC inserts provide the cleanest, most flavorful dab experience around when it comes to induction heating devices. You can also dab straight out of the titanium cup if you'd like!
Quartz Insert - Traditionally used for concentrates, quartz is a popular choice because of its properties that preserve flavor. Quartz is a great option for lower temperature dabs, however it can also withstand high temperatures over time with less likely to crack.
Silicon Carbide Insert - Usually abbreviated SiC, this insert heats up quickly, evenly, and maintains heat for longer periods of time in order to get the most out of your concentrates.
About temperature settings, operates on two modes, automatic and manual.
Automatic Heating Mode
The Dablamp incorporates an Induction Heating system which utilizes electromagnetism to heat the chamber. It's three Smart Heating Settings determine how long the chamber is heated.
Low (Blue LED - 25 seconds)
Mid (Green LED - 35 seconds)
High (Red LED - 40 seconds)
The default mode is Mid (Green LED).
Manual Heating Mode
The Dablamp enables you to manually heat the chamber by holding the heating button and then wait for vapor to appear and start drawing from the unit. Gently close and open the top the Glass Bubble Carb Cap with your finger tip to regulate vapor thickness.
The Dablamp Electric Dab Rig features a smaller more portable, oval looking base with a glossy black finish and a carbon fiber looking panel where the buttons are. The water bubbler attachment slides into the base comfortably, houses a standard diffused percolator, and has a 10mm male joint. 
This device is fully equipped with a 4200mAh battery, charged by a 3.5mm DC cable to reach a full charge in roughly 4 hours. It comes with a dab tool, an extra large 30mm bubble cap, and a carrying case! Portable, fast and easy to use, grab the Dablamp and get amped today!
Specifications:
Height: 6 Inches
Battery: 4200mAh
Charge Type: 3.5mm DC Cable
Temperature Settings: 3 Heating Cycles
Titanium, Quartz, and SiC Inserts for Induction Heating
Features: ​
Ergonomic Design for One Handed Operation 
Small, Compact and Portable
Induction Heating Dab Device
Automatic and Manual Mode
Clean, Pure Flavor from Quartz and SiC Inserts
Travel Friendly
Included:​
1 x Dablamp Induction Dab Rig Base
1 x Glass Attachment 
1 x Banger/Induction Cup Attachment 
1 x Bubble Cap (30mm)
1 x Titanium Induction Cup
1 x Quartz Insert
1 x SiC Insert
1 x 3.5mm DC Charging Cable
1 x Dab Tool
1 x Travel Case